Review
Author: Emery Lord

Pages: 384

Purchase it here:
It's been a year since it happened--when Paige Hancock's first boyfriend died in an accident. After shutting out the world for two years, Paige is finally ready for a second chance at high school . . . and she has a plan. First: Get her old crush, Ryan Chase, to date her--the perfect way to convince everyone she's back to normal. Next: Join a club--simple, it's high school after all. But when Ryan's sweet, nerdy cousin, Max, moves to town and recruits Paige for the Quiz Bowl team (of all things!) her perfect plan is thrown for a serious loop.
This book snapped me from a cold winter mood into a summer one. It was such a heart felt contemporary masterpiece. I've read another one of emery's books " Open Road Summer" which I loved. So going into this book I had high expectations and this book did not disappoint. I had a bookgasm. That went a little something like this.....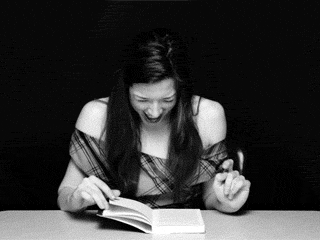 Don't Judge me we all had that moment and when you do that's when you know it's a good book.This is definitely a book to read in the summer at home with the AC open but i just couldn't wait that long.
(show spoiler)